For links and the usual happenings, please, do yourself a favor, and make sure to read over Bruce Allen's post earlier this morning. Because, frankly, even though he has been placed on injured reserve, we plan on booing that trader – oh, you know who we're talking about – former Patriots offensive lineman, Donald Thomas. While we bleed red, white, and blue, that mercenary only claps his hands together for one color, GREEN. 
Today: The Hater's Guide to the NFL Playoffs, Week 1; in which we review all the wonderful from Wild Card Weekend.
"A Curse Worth Believing"
… Embrace him, for he is your frenemy, New England.
… In reflection of what we wrote Friday, we want to clarify the proposed conclusion to Tommy Heinsohn's broadcast career was not just for us, the viewers, but for him, and his enduring legacy. His continued presence – on a full-time basis, anyway – will only worsen the situation.
You want evidence? Enter Mike Ditka. The 74-year-old is living proof that producers can dress someone up and trade in their once-hallmark aviator shades for a trendy set of HIPSTER GLASSES, but that doesn't mean the guy won't preview the wrong game and rock a face of general bewilderment as the gaffe is pointed out to them, because, again, the subject at hand was born in fucking 1939.
Shocking, we know, because it's not like no one at ESPN could have seen this coming. He didn't recently fall asleep on-set during a live telecast or anything.
Oh that happened, too? Well, then, shit.
… Andrew Luck puns are terrible. Most reasonable people understand this. Unfortunately, Twitter, as a platform, is an enabler. Here's a rule of thumb that all talking heads should consider: If you wouldn't say the line in front of friends at a bar or house party then, please, do not post the awfulness to Twitter. More often than not, you'll sound like Rick Reilly. That's embarrassing. We're embarrassed for you. There were hundreds of examples to choose from this weekend, but as always, Darren Rovell is a safe resource to represent these sorts of terrible things.
Andrew SKILL

— darren rovell (@darrenrovell) January 5, 2014
… Also on Twitter: Skip Bayless went all Baylessian. High comedy:
Never thought I'd say this but Drew Brees is actually looking … scared.

— Skip Bayless (@RealSkipBayless) January 5, 2014
Drew Brees, boy among men. (Except for when he's winning.)
… Immediately following the Saints victory in Philly, Trent Dilfer said the Saints offense morphed into a "portable" unit on SportsCenter. 48 hours later, we are still amused by that choice of adjective.
… The Most Shannon Sharpe Image of All Things Shannon Sharpe happened Sunday: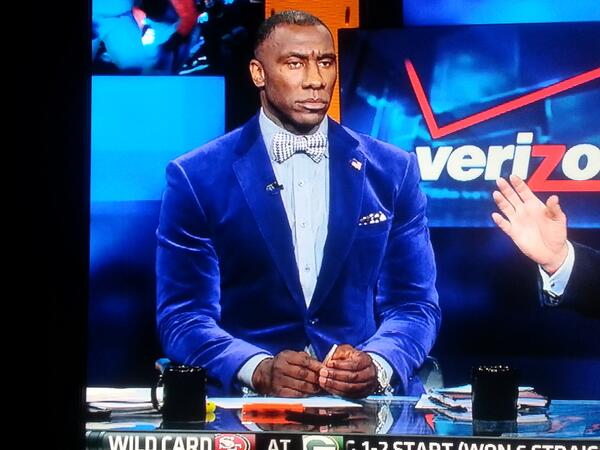 SOMEONE CALL AN AMBULANCE, OR THE FASHION POLICE. GET THIS MAN TO KIRK HERBSTREIT PRONTO.
… Phil Simms and Mike Mayock. Mike Mayock and Phil Simms.
… Mayock's involvement in the Chiefs-Colts showdown meant we were reminded of Alex Smith's 40-yard dash time because, in 2014, combine statistics from 2005 still matter.
… As brutal as the Mike Mayock Experience was, Phil Simms offered plenty of after-the-fact "I'LL TELL YA JIM, THIS IS WHAT WE TALKED ABOUT ALL WEEK" comments, which is as Simmsy as it gets.
… Producers must have got to him, however, because Simms, an infamous wishy-washy color guy whose HOT SPORTS TAKES are as hot as an under-cooked Lean Cuisine meal, went into Sunday's Chargers-Bengals match-up with one, decided opinion: the world has unfairly crucified Andy Dalton because of two lackluster playoff performances.
"OK, Phillip" we thought to ourselves. This could work. All told, this wasn't much different than Twitter deciding that nearly a decade of empirical evidence was worthless and Alex Smith had magically morphed into a Brett Favre type, with the poise of Tom Brady, after a strong first half against the Colts only 24 hours earlier.
Do it for people with bad hair, Phil.
Simms embarked on his journey, a man of conviction; presumably, he had "TALKED TO PEOPLE ABOUT IT ALL WEEK, JIM." So, with a little help from Jim Nantz, we noticed the delight in his voice when Dalton stood in the pocket and delivered his first career playoff touchdown pass to give the Bengals an early lead.
Do it for the (un)believers, Phil.
Together, Dalton and Simms were going to show the Internet what's what — through guts, determination, untimely interceptions, and a 40-yard bomb on 4th & 3 with a season on the line! Oy. It didn't end well for either party. So, here we are, through one week of playoff action, and the JOE FLACCO AWARD for Hey, that guy! He GETS IT NOW! is still up in the air. Your move, Cam Newton.
… Cris Collinsworth, on the other hand, was insightful and, at times, even prescient during the Saints-Eagles game. On one drive alone, Collinsworth noted that Philly would throw deep if the Saints didn't provide safety help over the top on DeSean Jackson. On cue, the Saints left their defensive back exposed on an island, which led to a PI call on the very next play. Then, on the same drive, Collinsworth said to watch out for Zach Ertz in the end zone. Like clockwork, Ertz popped open to temporarily give the Igggggles the lead. It's not that he played, or that he's witty, or anything like that, we just feel like Collinsworth is smarter than every other color guy and thus better at his job.
… A few hours after the action was over, we ran a search into the Google machine and found a fun Packers blog. They write from a fan's perspective, and I found the work (somewhat) entertaining. Here is how the blog describes itself in the "About" section:
The Wisconsin media ranges from bland to hilarious in their coverage of the Green Bay Packers. Total Packers doesn't pull any punches. We are outspoken. We are entertaining. Sometimes, we are crass. But most of all, we are passionate about the Green Bay Packers because we bleed Green and Gold.
Sound familiar? The site's recap of Green Bay's loss to the 49ers was OK. Truthfully speaking, I'm sure I could have found a better site, with more in-depth statistics and thoughtful writing, but that's neither here nor there. The point the likes of Dan Shaughnessy fail to comprehend is that bloggers – yes, even fans of the team – can produce analysis on par with the mainstream media experts.
As previously stated, we, the readers, do not need our embattled scribes to root for the team, so long as the overall mission of coverage is not hindered: ENTERTAINMENT & NEWS. The latter is no longer in Shank's purview, the former is an ongoing quest for the CHB.
… Lastly, we didn't have a problem with Leigh Montville's column in the Boston Globe on Sunday about Aaron Hernandez (still) being THE STORY of Patriots' season.  What say you, BSMW community?
As always, thanks for reading. @Hadfield__