Programming Note: With Bruce away, I'm captaining the ship this week. Always exciting, often disastrous. Shoot tips, comments, and other feedback to Hadfield.Ryan@Gmail.com or, if you consider yourself the progressive type, yell at me on Twitter, @Hadfield__.
Today: In which we go Three & Out — yet again, because we lack a stretch wide receiver – while we discuss happenings in the media, as we brace for yet another Polar Vortex this week … BURRRRRR.
FIRST DOWN: It's That Sports Guy On Celtics-Lakers
When it was announced Tommy Heinsohn would only provide color commentary for home games this year, my interest immediately piqued. Finally! Who would they bring in? Does this mean more Donny Marshall? God, I hope this doesn't mean we'll have more Donny in my life. Does he get any royalties from Ray Allen's contract? He should definitely earn a little off the top.
Turns out, much like the admirable job NESN did back-filling the void created from Jerry Remy's absence in the booth last summer, the brass over at Comcast has done a good job finding talent to insert on the road – Jackie MacMullan, Dave Cowens, and even the C's General Manager, Danny Ainge, have all helped call games alongside the venerable Mike Gorman. Hey, if nothing else, the personalities have been interesting choices, in a somewhat uninteresting season of local basketball.
Enter ESPN's Bill Simmons. As with all things (Boston) Sports Guy, his appearance on the broadcast of Friday night's Celtics 101-92 loss to the Lakers was met with a wide range of reaction, because, these days, the Internet exists so we can dissect such things with purpose and vigor normally associated with political campaigns.
Here are scattered musings about The Sports Guy's performance …
… Overall, listening to Simmons field questions during the pregame show was insightful and enjoyable. The guy is plugged in and has the perspective of someone whose knowledge extends well beyond the Celtics, because – you know – he watches the NBA, as opposed to aimlessly giving an opinion. For instance, Simmons spoke to why winning the lottery isn't the end all be all of getting a good draft pick, because the lottery is full of dudes like Michael Carter Williams and Trey Burke who can be had with the seventh or eighth pick.
… I don't think 85% of sports radio hosts in Boston know who MCW is or where he went to school last year. #FactNotOpinion. And stuff like that is a shame, because the NBA is great. It really is. But intelligent, league-wide conversation around these parts is lacking.
… Don't think Sports Guy could pull this off as soon as a year ago. He's improved considerably since joining ESPN's NBA studio show.
… That said, I could have done without the obligatory "Wanna give a shout out to my friend Sully, Murph, Sully, Sully, et al" joke, but whatever.
… Could have also done without the weird interactions with courtside folk. Again, whatever — you win some, you lose a lot. This wasn't a huge deal.
… I get that he's polarizing — although, I'm not sure why — but hate him or love him, no matter how much his circumstances, access, and connections have evolved over the years, Simmons hasn't changed the way he views sports – from the prism of a fan's perspective — and there's something incredibly endearing about that. He kept on rambling about how calling a game with Gorman was a bucket list item of his. Kind of cool.
… To that point, anyone berating Simmons for saying "we" or "us" in reference to the Celtics during the telecast misses the entire point. Plus, he's filling in a role normally held for Heinsohn, a dude who doesn't exactly scream objectivity.
… Within five minutes of opening tip, Simmons compared Jeff Green to an actor who doesn't want to be the lead in a big budget film, but is instead content reprising the third or fourth role. When this happened, I'm quite certain Drew Magary's head exploded.  SOMEONE CHECK ON DREW.
… Speaking of Magary, Deadspin took an opportunity to call out CSNNE for trying to fetch ratings with the addition of Simmons to the telecast. Because Lakers-Celtics used to mean something! (Or something.) It wasn't that the assertion was particularly off – it was a Friday night and, on Twitter, I saw multiple people admit they were drawn to the telecast solely because of Simmons, as opposed to the two awful NBA teams that played subpar basketball. But, as Simmons told Chad Finn last week, this was planned in the offseason. The network had no way of knowing whether or not the Celtics or Lakers would be terrible. (To be fair, given the rosters, that certainly seemed likely)
Either way, does anyone else think Deadspin/Gawker's infatuation with everything Simmons is beyond perverse at this point? Seriously. Transcribing the Lena Dunham podcast? (An interview where Simmons, ironically, announced that he likes Jezebel, Gawker's website that boasts the tagline "Celebrity, Sex, Fashion For Women. Without airbrushing") How about Tim Marchman's well-written, but curiously agenda-driven breakdown of the controversial "Dr. V's Magical Putter" feature on Grantland?
(I've already written extensively about this issue, but a quick refresher: Marchman does a fine job illuminating the journalistic failings of the piece, but ultimately tries to make this a marco issue about Grantland-Bill-Simmons. Frankly, it wasn't. Any publication could have made the same mistakes. Do you know about trans-gender sensitivity issues? I sure don't.  In fact, Deadspin, along with many other prominent journalists/publications, initially loved the piece.)
… And yes, this is interesting coming from me, someone who spends far too much of my own time thinking about media criticism.
… All that said, I don't think I could watch Simmons call games on a regular basis, but I'm not sure he'd want to do that either.
SECOND DOWN: Kirk Minihane's Jedi Mind Tricks
The morning show over on WEEI, "Dennis & Callahan," have spent a considerable amount of time debating the impact of team chemistry on a team's fortune, specifically how the intangible trait helped aid the Red Sox during their World Series run last season.
New guy – otherwise known to them as The Savior – Kirk Minihane, argued that stuff like team chemistry is overblown and simply another example of an overwrought narrative that morphs into (faulty) truth. (THEY LIKE EACH OTHER = WINNING!) John Dennis and Gerry Callahan could not wrap their head around this logic, but Minihane would only concede that chemistry merely helps matters and that it's hardly important.
RELATED: "Dennis & Callahan" is listenable again, and it has nothing to do with chemistry. It's funny: Minihane's existence keeps Callahan and Dennis employed, as they disprove their own HOT SPORTS TAKE. This is a profession where chemistry matters — presumably more than something like baseball, anyway.
But on-air chemistry is much different than the type of crap Dennis and Callahan are espousing as ingredients for winning baseball games. Knowing your cues, when to let the other guy go on a tangent, or to put him in his place is comparable to a pitcher being in sync with a catcher. It's occupational chemistry.
Whether or not, David Ortiz and Will Middlebrooks double date with their respective WAGs is different. Sure, it may help matters, but overall, a relationship outside the game lacks any real bearing on the scoreboard. The same can be said for the resurgence of "Dennis & Callahan." I get the feeling Minihane respects Callahan and tolerates Dennis. These guys don't seem like best friends; they're colleagues with similar aspirations. But it works. So much so that Minihane says if the duo doesn't get the extensions they're looking for that he'd walk. (I'm not sure if this is Minihane saying Minihane things, or if he's serious – methinks it's the former).
The funny part is that Dennis and Callahan definitely go into Phil Zachary's office touting their banter and formula that is catching steam, but the truth is Minihane would've revived "The Big Show" the same way. Who isn't listening to Michael Holley  and Minihane over "Felger & Mazz"? It was another long, overdue move – just like the switch to FM – that, for whatever reason, Entercom waited about a year too long to make.
(Side bonus: Minihane is writing more often at WEEI.com again. His stuff is usually worth your time.)
Third Down: Other Media Matters, Random Thoughts
… Question: How dumb am I for NOT watching True Detective? Is it good? How good?
… Congrats to Tony Gonzalez on his new role as part of the NFL Today studio show on CBS. Which also means happy trails to Dan Marino and Shannon Sharpe, both of whom are being booted after yet another season that CBS trailed FOX's coverage in ratings. I'll miss nothing about Sharpe, except for his DAPPER suits. They were the best.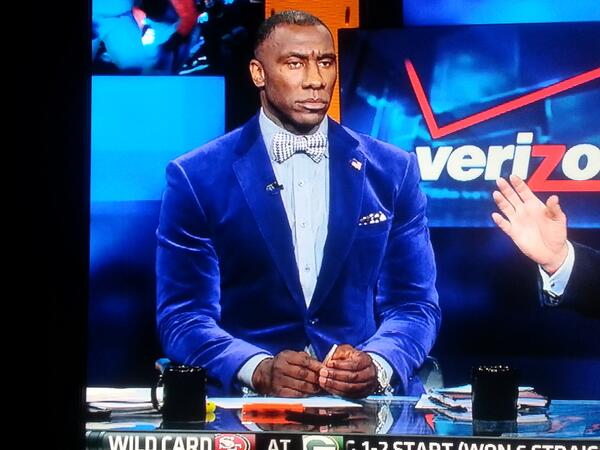 … As much as "Bill Belichick, The General Manager" supposedly sabotages"Bill Belichick, The Head Coach," at least they're cordial with one another (Sources say the strong relationship is due to the two being the same person. BSMW hasn't confirmed these reports. Stay tuned…) That's not the case in San Fransisco, however, where it appears Jim Harbaugh was in talks to be traded to Cleveland because he and the 49ers GM, Trent Baalke, don't play nicely with one another. File this under: THANK GOD THIS STORY ISN'T HAPPENING IN BOSTON. (I think I would just ignore the Internet altogether if it was)
… James Franco on seflies was better than James Franco on Shia LaBeouf, which was also really, really good. An auspicious start to a – possibly recurring??? – role contributing to the New York Times.
… The NFL is thinking about implementing a 15-yard penalty for using discriminatory language on the football field. I feel like Roger Goodell and the competition committee made a deal with talking heads in the media on ways it can fuel stupid, moralistic debates during the offseason. Is there an incentive metric for this in his $44.2 million annual compensation package? Has to be.
… Alec Baldwin wrote at length about his "retirement" from public life. Is it me or is he totally one of those people in your life that announces on Facebook that they hate Facebook and are quitting, instead of – oh, I don't know – simply deactivating their account? HOLY self-aggrandizement.